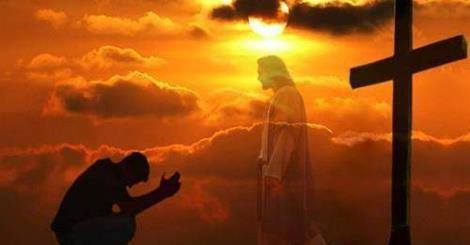 Is God pleased if we pray to Jesus? Some say, "no" and a summary of their thinking on the matter is paraphrased below.
"Christians pray solely to God the Father. Some people in the denominations and even in the Church of Christ pray to Jesus Christ the Son. Matthew 6:9-13 leaves no room to make such error. For one to misunderstand this passage, he shows no desire to understand the scriptures. Here, Jesus in no way taught that we have authority to pray to Him. Instead He tells us we should only pray to God the Father. Jesus teaches us that we must only approach God the Father when we pray."
While not everyone in the Churches of Christ consider the conclusion above to be scripturally valid, there are those who do. Where does this idea come from and does it have scriptural support? Those who espouse the idea that prayers cannot be directed to Jesus base their conclusion on the following points.
In the Lord's Prayer, Jesus taught His followers to pray only to the Father
Valid prayer is properly addressed to God
Prayer is to be offered in Jesus' name
Jesus' role as an advocate excludes Him from listening to prayers
Let's take a look at these ideas one at a time.
Our Father which art in heaven
The Lord's Prayer (or Model Prayer as some prefer to call it) in Matthew 6:9-13 was part of a lesson taught by Jesus where He was correcting some wrong ideas and behaviours regarding prayer. He taught that we are not to pray to be seen of men as the hypocrites do (Mt 6:5-6) and that repetitious, empty phrases like the pagans used are of no value (Mt 6:7-8). He then proceeded to utter an abbreviated prayer that was meant to demonstrate how not to pray like hypocrites and heathens.
In this example prayer, Jesus prayed to God the Father. This makes perfect sense because it would have been rather odd for Jesus to pray to Himself! However, some have concluded that because Jesus prayed to God and taught us to do the same, that we may only address our prayers to God. This ignores the fact that not everything Christians are to pray about are included in the Lord's Prayer. For example, there is no mention in the Lord's prayer about:
Praying for the sick – James 5:14
Praying for each other – James 5:16
Giving thanks – 1 Thes 5:18
Praying for government officials – 1 Tim 2:1-2
Praying for our enemies – Mt 5:44
Since it is obvious that Jesus didn't cover every conceivable aspect of prayer in Mt 6:9-13, we can conclude that there is more to be learned about prayer by studying the rest of the New Testament. Could it be that there are other passages of scripture which reveal that it is indeed proper to pray to Jesus?
I thank my God through Jesus Christ
Because Paul said that he gives thanks to God in the verses below, some have assumed that this serves as a pattern for prayers to be directed only to the Father.
Rom 1:8 ESV First, I thank my God through Jesus Christ for all of you, because your faith is proclaimed in all the world.
Rom 7:25 ESV Thanks be to God through Jesus Christ our Lord! …
We cannot overlook the "through Jesus Christ" part of this phrase. If we glean anything about prayer from these verses (which, by the way, was not Paul's real point) it's that prayer is offered to God through Jesus. We all know what it means to go through one person to reach another. In the workplace you may take concerns to senior management, but you do so through your immediate supervisor. In the military, a person of enlisted rank may raise concerns to officers, but it is done through the chain of command by addressing your concerns to the NCOs.
Paul is conveying the very same idea when he thanks God through Jesus Christ. Jesus is our mediator (1 Jn 2:1) and our intercessor (Heb 7:25) and therefore it is only natural that we have the blessing of speaking to God through Jesus.
These verses in Romans teach exactly the opposite of what is claimed and if they were the only source of instruction about prayer, we'd be required to address our prayers to Jesus and not to God the Father. Does the Bible teach that we can pray directly to God the Father? Yes it does (e.g., Acts 4:24-30, Eph 5:20), but we don't learn that fact from Romans 1:8 and 7:25.
Whatever you ask in my name
Some claim that it would be an absurdity for us to pray to Jesus and then end the prayer by reminding Jesus that we are praying "in His name". To them, this is evidence that prayers ought to only be directed to God the Father. Prayers are to be offered in the name of Jesus (Jn 14:13-14, Eph 5:20), but what does it mean to do something in Jesus' name?
"In the name of" is an idiom which means "by the authority of". For example, a policeman may shout, "Stop in the name of the law!" We understand this to mean that the officer has been delegated authority by the law to apprehend suspected criminals. When we pray in Jesus' name, it means that we are praying by the authority that He has given us.
It is also worth noting that a prayer offered by the authority of Jesus does not mean that we must recite the words, "in Jesus' name I pray, amen." Contrary to popular practice, there is no scripture which tells us that a prayer must include these words to be a valid prayer. Saying "in Jesus' name" at the end of a prayer is not a magic incantation which turns an otherwise invalid prayer into one that God finds acceptable. Our prayers are uttered by the authority of Jesus whether we state it in our prayers or not.
With these things in mind, what exactly is silly or absurd about praying to Jesus and doing so in a manner consistent with His authority?
We have an advocate with the Father, Jesus Christ the righteous
Of the arguments given against praying directly to Jesus, the one that is hardest to fathom is this: because Jesus serves as our advocate and mediator we can't pray to Him. Those who make this argument put forth the assertion, but offer no proof nor additional explanation.
Contrary to the assertion, I propose that the fact that Jesus is our mediator and advocate suggests that we can and should pray to him.
1Jn 2:1 ESV My little children, I am writing these things to you so that you may not sin. But if anyone does sin, we have an advocate with the Father, Jesus Christ the righteous.
1Ti 2:5 ESV For there is one God, and there is one mediator between God and men, the man Christ Jesus
The word translated "mediator" is from the Greek word "mesites" (G3316) and means
one who intervenes between two, either in order to make or restore peace and friendship, or form a compact, or for ratifying a covenant
a medium of communication, arbitrator
The word translated "advocate" is from the Greek word "parakletos" (G3875).
summoned, called to one's side, especially called to one's aid

one who pleads another's cause before a judge, a pleader, counsel for defense, legal assistant, an advocate
one who pleads another's cause with one, an intercessor
in the widest sense, a helper, succourer, aider, assistant
A mediator is a "go between" who facilitates peace and reconciliation between two parties. Jesus is our mediator, but He goes the extra step and also advocates for us; that is, He comes in on "our side", so to speak, and pleads our cause.
Since this is Jesus' role, is it not preposterous to claim that we have no authority to talk directly to our mediator and advocate? What good is a mediator whom I am not allowed to speak with? The definition of these words implies communication takes place!
Praying to Jesus is Scriptural
The bible makes it clear that prayers directed to Jesus are both acceptable and to be expected. Let's look at a few examples.
Jesus expected us to pray to Him
Joh 14:14 ESV If you ask me anything in my name, I will do it.
Clearly from the verse cited above, Jesus expected His followers to pray to Him! Some might object saying that He was addressing His inner circle of disciples and that Jn 14:14 might not apply to us. From the beginning of the chapter He was preparing them for His departure and continued on in verse 16 to tell them about the coming of the Holy Spirit. He was giving them instructions to prepare them for what was coming after He went back to Heaven, and prayers to Him were a part of that. He expected them to pray to Him after His departure. Does it make sense that they could pray to Him in Heaven and no other disciples of Christ were ever permitted to?
Stephen Prayed to Jesus
Act 7:55-56, 59-60 ESV But he, full of the Holy Spirit, gazed into heaven and saw the glory of God, and Jesus standing at the right hand of God. (56) And he said, "Behold, I see the heavens opened, and the Son of Man standing at the right hand of God." … (59) And as they were stoning Stephen, he called out, "Lord Jesus, receive my spirit." (60) And falling to his knees he cried out with a loud voice, "Lord, do not hold this sin against them." And when he had said this, he fell asleep.
Stephen prayed to Jesus as he was being stoned to death. Objections are raised saying that this was a special case and doesn't apply to anyone else because Stephen could actually see Jesus. Therefore, it is reasoned, this was not a normal situation and is not an example of what we commonly think of as prayer.
It is true that this was an extraordinary circumstance, but I fail to see why Stephen's words do not constitute a prayer. It has all the traits of any other prayer:
Jesus was in Heaven
Stephen was on Earth
Stephen talked
Jesus listened
Why does this not constitute a prayer just because Stephen could see Jesus? It is also interesting that Stephen saw both the Father and Jesus and yet directed his prayer to Jesus!
Paul saw it as normal for Christians to Pray to Jesus
1Co 1:2 ESV To the church of God that is in Corinth, to those sanctified in Christ Jesus, called to be saints together with all those who in every place call upon the name of our Lord Jesus Christ, both their Lord and ours:
Christians in every place prayed to Jesus.
Paul prayed to Jesus
2Co 12:7-9 ESV So to keep me from becoming conceited because of the surpassing greatness of the revelations, a thorn was given me in the flesh, a messenger of Satan to harass me, to keep me from becoming conceited. (8) Three times I pleaded with the Lord about this, that it should leave me. (9) But he said to me, "My grace is sufficient for you, for my power is made perfect in weakness." Therefore I will boast all the more gladly of my weaknesses, so that the power of Christ may rest upon me.
Paul prayed to God to remove his physical infirmity. Notice that Paul received a response from "the Lord". He goes on to connect the Lord's response about His grace and power with the power of Christ in verse 9. In context, it was Jesus that Paul prayed to.
A careful examination of Paul's 13 letters reveals that when he uses the word "Lord" he is referring to Jesus. In every one of Paul's letters he repeatedly refers to "the Lord Jesus". In the KJV, the phrase occurs 110 times in Paul's writings. When he uses the word "Lord" without linking it specifically to Jesus, it is clear from the context that it is Christ he is referring to. Here is an example which also contains a prayer to Jesus:
1Co 16:22-23 ESV If anyone has no love for the Lord, let him be accursed. Our Lord, come! (23) The grace of the Lord Jesus be with you.
It should be pointed out that this observation does not hold true for other writers of the New Testament. We see other authors use the word "Lord" to refer to the Father, the Son, to men who had servants and it is also used as a term of respect. It should also be noted that this observation does not include approximately 15 Old Testament quotations Paul used where the word "Lord" is found (because the author has not attempted to determine if "Lord" in these quotations is referring to God the Father or the preincarnate Christ).
Paul thanked Jesus in Prayer
1Ti 1:12 ESV I thank him who has given me strength, Christ Jesus our Lord, because he judged me faithful, appointing me to his service,
Paul didn't pray to God saying, "Father, please relay a message to Jesus that I am thankful."
John says Christians make requests of Jesus
1Jn 5:13-15 ESV I write these things to you who believe in the name of the Son of God that you may know that you have eternal life. (14) And this is the confidence that we have toward him, that if we ask anything according to his will he hears us. (15) And if we know that he hears us in whatever we ask, we know that we have the requests that we have asked of him.
We direct requests to the Son of God and he hears us.
John prayed to Jesus
Rev 22:20 ESV He who testifies to these things says, "Surely I am coming soon." Amen. Come, Lord Jesus!
Some of the last words of the New Testament are a prayer to Jesus!
Conclusion
There is no scriptural support to justify the idea that prayers can only be directed to God the Father. It is unfortunate that some of the theology in the Church of Christ has been influenced more by a desire to win debates against other denominations than by a desire to search out what the bible actually says. Let us not decide this matter by overreacting to the practice of praying to Mary or the Saints and swinging to the opposite extreme.